1997 Powerstroke for sale
For Sale
1997 Ford F-350 cab and chasis 7.3 Powerstroke EngineUnknown working condition Needs an auto transmission No bedNeed gone todayBring trailer1000.00
For Sale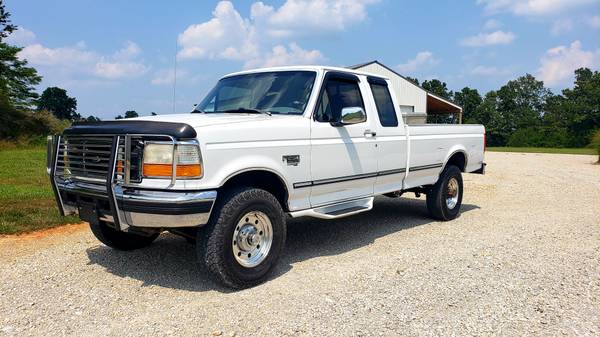 Selling pretty clean 1997 ford obs F250 with the super reliable 7.3 turbo powerstroke engine. With only 177k miles it has many more left under its belt. Always maintained right on schedule, has air intake, 3- pillar gauges, superchip on economy tune. It fires right up and runs ...
For Sale
1997 Ford f-250 4x4 Heavyduty 7.3 Diesel STAHL Grand Challenger Utility service bedpowerstroke excellent condition new transmission good Tires brakes exhaustAnd more97000 original miles Very rare Truck 16,700 obo
For Sale
1997 Ford 7.3 Powertrain- Ford factory auto transmission with less than 5,000 miles. Engine has 146,000 miles, runs excellent and doesnt smoke at all. Oil pan has been replaced. Also, there is a flatbed on truck which could be parted out and six cooper tires that are in great ...
For Sale
1997 F250 HD Powerstroke Diesel 7.3

1997 F250 HD 2wd. 7.3 Powerstroke Diesel. 246k . Automatic. SMOG EXEMPT. Very good overall condition for the year. If you are looking at these trucks, you know what they have to offer. Body is good, engine and trans good. Needs a few very minor interior details. Family is ...
For Sale
1997 F250 PowerStroke Parts

No engine, Let me know for parts
1997 Powerstroke
3 L PowerStroke diesel, 5 speed standard transmission. 00Make: ford or Best OfferModel: F-250 Transmission: Manual 1997 Ford F250. 00Make: Ford or Best OfferModel: F-250 18 watchingTransmission: Manual 1997 Ford F-250 Supercab, RWD 7.
There are now 5 for sale listings available in FALMOUTH MA area. Refine your search in FALMOUTH MA by listings types, Such as Price, Turbo, Account, Transmission, Search, Engine, Power, Rights. The average listing price for Engine ads on ZeMotor $8,700. Whether you're interested in viewing 1997 powerstroke items for sale in almost any of your preferred areas, About, Other,Contact,Products. Performance,Exhaust,Diesel you'll find what you're searching for.
Near Locations
Springfield MO, Lakeside CA, Los Lunas NM, Susanville CA, Falmouth MA, Denver CO