For Sale
Convenience Features1-touch downDriver vanity mirrorTilt steering wheelAir conditioningFront beverage holdersSpeed controlIlluminated entryRear door binsTelescoping steering wheelRear beverage holdersPower windowsPassenger door binRemote keyless entryOverhead consolePassenger vanity mirrorDriver ...
For Sale
Parting out 1999 Ford F-150 with the 4.2 V6 engine and 5 speed manual transmission.The engine and transmission are good.This truck is 2-wheel drive.Most parts on this truck will interchange with the Ford F-150 pickup of the years 1997, 1998, 1999, 2000, 2001, 2002, 2003 and ...
For Sale
2002 ford F-250 TRANNY 5.4 MOTOR 2 WHEEL DRIVE - 2002 Ford transmission - F-250 2 wheel drive - 5.4 motor - 126,000 milesTranny works good. I purchased the truck for the motor for my van. No leaks on tranny. Comes with dipstick and tub tork converter has not been ...
For Sale
I have 2 ford van one the at trans is bad the other one the trans good take both make a decent van not sure on year one is 2007 and one 2003 have both clear NC title,both has ladder racks and tool bin, will take 1,650.00 cash firm no cashiers check or pay pal and no google ...
For Sale
4 x Rough Country Shocks 2011-2016 Ford F-250 2-4.5 LiftNever used. Went with Bilstein shocks, so these never left the wrappers they came in. Fits 2011-2016 F-250 with 2-4.5 lift.
For Sale
I have 12 brand new Pertronix Flame-Thrower Coil on Plugs. Part number is 30721. These fit 1998-2009 Ford, Lincoln and Mercury products with 2-valve 4.6, 5.4, or 6.8 liter engines including Mustang, Crown Victoria, Expedition, Navigator, etc.. All are brand new and they ...
For Sale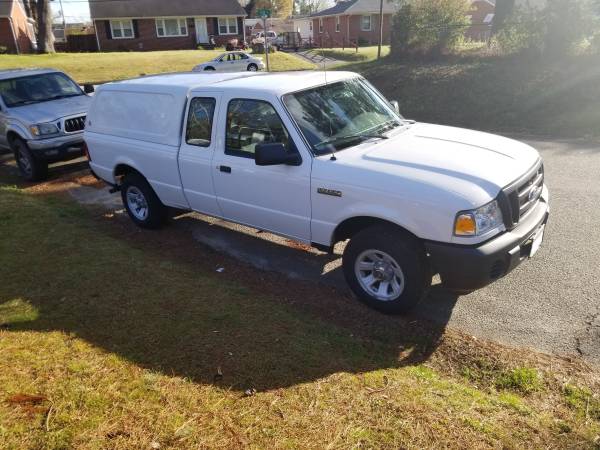 2010 Ford Ranger XL4 Brand New Tires installed today 3302020.2 wheel drive5 speed transmission4 cylinder 2.3 L51,851 miles - Less than 5,000 miles per yearNo accidents, non-smokerClean and ready to goClear title in handNo rust, its been a VA. truck all its lifeSelling because ...
For Sale
96 ford 2 door extend cab stepside bed 5.4 triton good engine and tranny started parting out no title

96 f150 ex cab step side 5.4 triton good motor and tranny has alot good parts also open to trades
For Sale
Corsa air intake Ford F-150 Raptor 5.4 and 6.2

Barely used, on my dads truck for less than 50 miles. Made a nice improvement in sound and performance. Was installed on a 2010 Raptor with the 5.4, but will fit others. Part number is on the part sheet in the pics, check online or with Corsa to verify if needed. Paid almost ...