For Sale
For sale in our Nashville Tennessee showroom is a beautiful 1957 buick Century. This 1957 Buick Century for sale is nothing short of stunning, with a Brandy Wine paint that has a metallic flake inside makes your eyes explode. This award winning 1957 Buick Century for sale has ...
For Sale
1957 Buick Roadmaster 2 Door Hardtop with 19,207 milesMuseum Quality1 of 3,826 producedOriginal 364 CI Nailhead V-8 engineAutomatic transmissionPower steeringPower brakesDual exhaust systemDual outside mirrorsWonderbar radioPadded dashStock two-tone upholsteryRoadmaster roof ...
For Sale
1957 buick Roadmaster Vehicle Description This is a beautiful 1957 Buick Roadmaster Riviera, Super solid car that has new 2-toned red and white paint...new interior and over 3,500.00 worth of new chrome She needs finishing and the price reflects this Dont let it get away ...
For Sale
1957 buick special all original, taken apart and cleaned and painted. Engine bay, frame and tank. Ready to restore. All manuals 4 books. $8000
For Sale
Optional rear seat for a 1957 Buick Caballero wagon. Includes chains and bolts for mounting.When my father traded the wagon in he kept the seat for us kids. In really great shape.Photos show the seat mounted on a base that I made for it and the wagon that it came out of.Pick ...
For Sale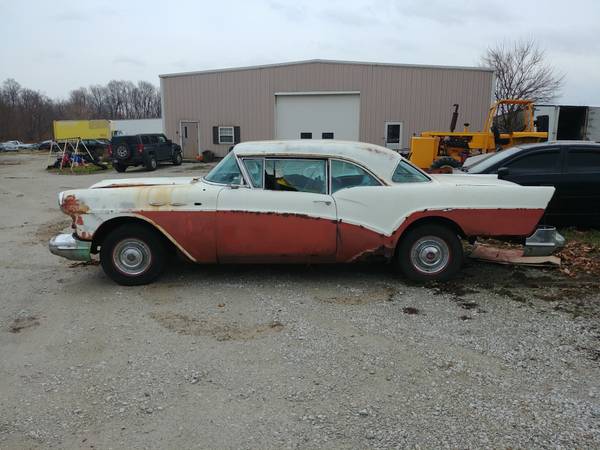 1957 Buick Special 2 Door Hardtop 364 ci Automatic Transmission Project. Motor and transmission are in the car. Has the 364 Nailhead motor, and Automatic transmission Im sure theyll need rebuilt. Frame is rusted through in places, and the trunk and floorboards will need to ...
For Sale
Very good condition 1957 Buick grill emblem. Priced at $150. Calls only due to all the scams. Will not answer blocked phone numbers or text messages.
For Sale
Great project. Bodywork complete. With clean, clear title. Interior and drivetrain complete not messed with. Needs a headliner, drivers side door glass has a crack. Some rust in floors, not significant. All chrome trim and other ornaments decor seems to be with the car. No trades if the ...
For Sale
New front coil springs for 1957-58 Buick special and Century $50 pair call 716 824 two two nine two
For Sale
New front coil springs for 1957-58 Buick special and Century $50 pair call 716 824 two two nine two
For Sale
I got this radio with a car I bought, but I have no use for it. I believe it to be a 1957-1958 Buick radio. Asking $20.00 . I do not know the condition of it. Thanks