For Sale
Now available at our Philadelphia showroom, Gateway Classic Cars welcomes this sporty 1973 amc Hornet Sportabout Wagon Manufactured from 1970 to 1977, the Hornet was AMCs answer to replacing its bread and butter compact, the Rambler. This 1973 Hornet was well-kept by one family ...
For Sale
1975 AMC HORNET for TRADES or cash offer. Body is pretty solid. Missing front grill, windshield and three door glasses. Original drivetrain is in the car. BILL OF SALE ONLY...NO TITLE. Interested in anything pre 70s cars,trucks, motorcycles, boats or old vintage stuff...miscellaneous ...
For Sale
restored amc hornet grill. $200 local pickup or can ship for extra. Please email through here if interested.
For Sale
For Sale AMC Hornet Rear Windshield from four door 1974 sedan. $20
For Sale
1972 AMC Hornet Sportabout Gucci Package. Automatic, Very Low Miles, Exclusive Gucci designed interior, Working AC, Classic Jensen 70s Stereo, Garage Kept, Leather Seats, and the optional 304 V8 Engine. Car is in exceptionally good condition and was the personal car of the ...
For Sale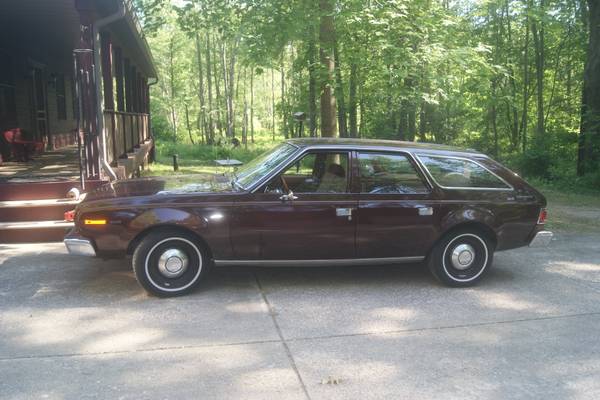 very clean 1975 hornet,factory paint no rust ,new carpet. 2 sets of wheels and tires both new. run good power steering asking 9200 or best offer. come take a look,dont think you will find another one cleaner.call or e-mail only. dont need help selling.will remove when sold. ...
For Sale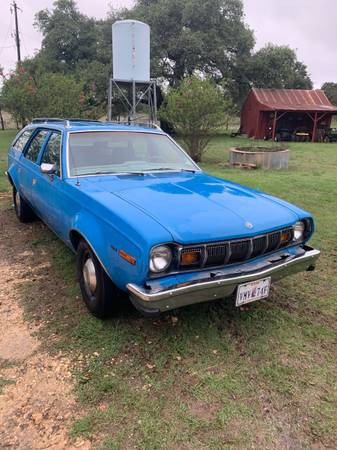 Is it just me or would this make a great race car It has very low miles at just under 55,000. Has been sitting many years and does not currently run. Very little rust. 100 original and complete. 258 Straight 6 with automatic and factory air. Have keys and title. Project or lots of rare parts. ...
For Sale
73-77 Hornet Fenders $250 pair73-77 Hornet Hatchback needs minor repair $10073 Hornet Sportabout hatch $5077-78 Gremlin hatch glass $150 Spirit Sedan Eagle Kammback NOS quarter panel $25073-77 Hornet Drivers side Fender $10073 Hornet Bumper $12577-78 Gremlin Hood $8577-78 ...
For Sale
I am looking for A 1970 to 1978 AMC HORNET AND GREMLIN PROJECT CAR AND OR PARTS. SCAMMERS GET LOST AS YOUR TIME IS COMING
For Sale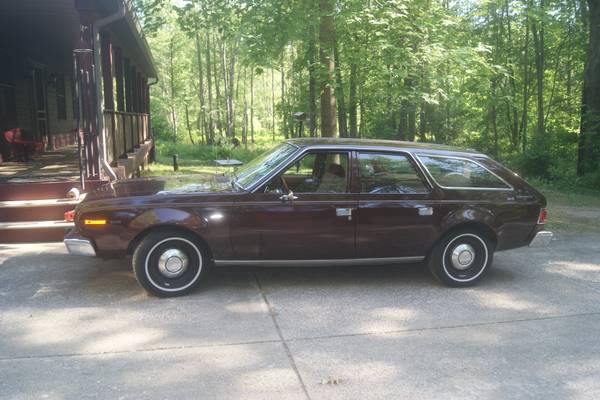 Very good condition runs really good . new wheels and tires, plus new white walls on steel rims. new carpet. no rust or body work. no repaint. come take a look.9200 or best offer . phone or e-mail only. will ermove when sold.
For Sale
Clean southern car 72000 miles intior decent paint is good runs drives fine sat a while runs drives fine like the car in the james bond movies shipping avl
For Sale
1977 AMC HORNET WAGO

EXCLLENT SHAPE -  GARAGED FOR +20 YEARS  - SOUTHERN CALIFORNIA/NO RUST -  SECOND OWNER - 83,000 ORIGINAL MILES (HAD 29,000 MILES WHEN PURCHASED FROM ORIGINAL OWNER)258 CI - 2 BARREL CARB - AUTOMATICNEW CARB & FUEL PUMP - NEW SMOG PUMP- - NEW BRAKES - NEW SUSPENSION/BUSHINGS - NEW ALL ALUMINUM ...