For Sale
... Autos exclusive listing. Up for sale is a 2003 ford Excursion Eddie Bauer with 207,495 miles. We have driven and inspected this vehicle. The engine starts, runs, sounds and performs excellently. There are no leaks, smokes, ove
For Sale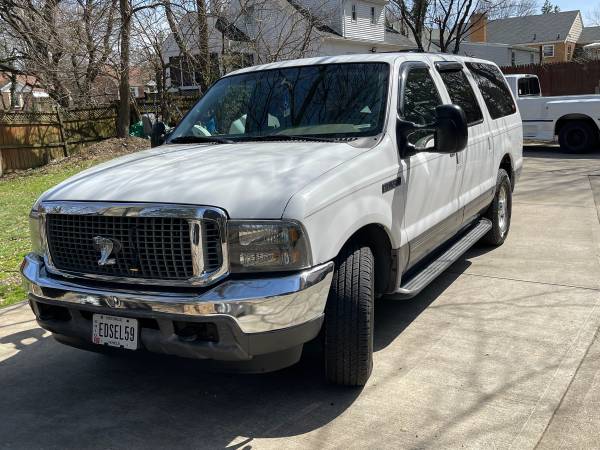 2001 Ford excursion XLT 7.3 diesel 237,000 miles runs perfect no chips ever has banks air system. new tires batteries brakes , I am the second owner I bought it in 2006 from original owner in Atlanta typical rocker rust but very solid drive anywhere cash or check that must ...
For Sale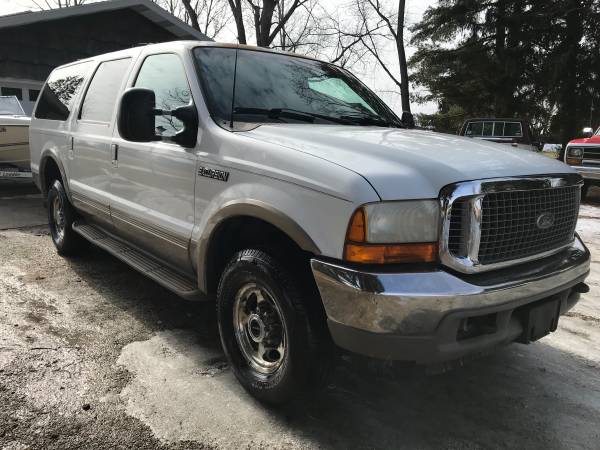 2000 Ford excursion limited 7.3 power stroke turbo diesel 4 x 4 runs and drives great. New Michelin tires. Four-wheel-drive works great. Lockout hubs. Has some rust. Leather third row seating. 348K miles, but runs and drives great. $5800.
For Sale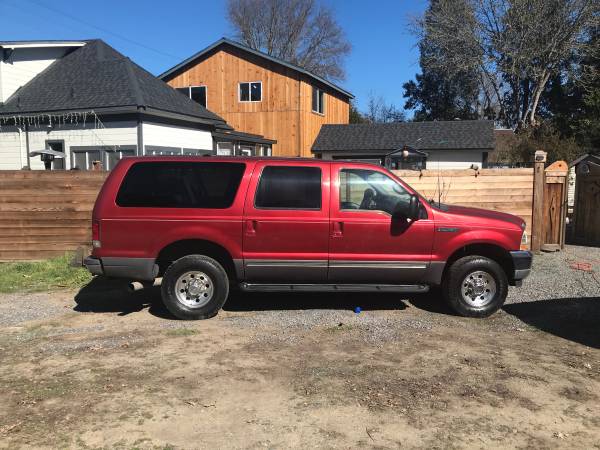 2001 ford excursion condition good fuel diesel odometer 285400 paint color red title status clean transmission automatic We are currently on a trip and will add more details and pictures when I get back. This vehicle is a mechanically sound running vehicle. We take it everywhere ...
For Sale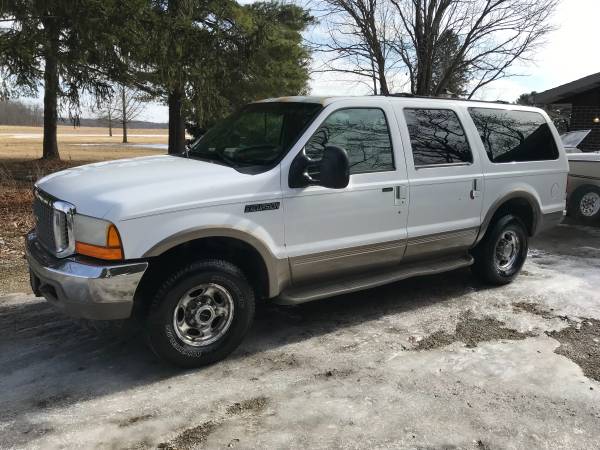 2000 Ford Excursion Limited 7.3 Powerstroke turbo diesel 4x4.runs and drives great. New Michelin tires. 4 wheel drive works great. Lockout hubs. Has some rust. Leather 3rd row seating. 348k miles, but drives like it had 80k. $6900.
For Sale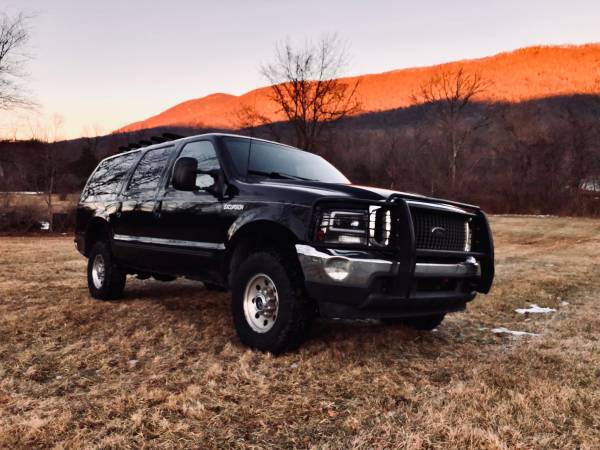 2000 Ford Excursion xlt limited 7.3 has 206,xxx on it. Great running truck only selling it because I bought my wife a Yukon. Has a stage 4 suncoast transmission in it $9987 ats billet flex plate ats deep transmission pan 6.0 tranny cooler with bigger lines. I HAVE PAPERWORK ...
For Sale
This 2003 Ford Excursion is a one of its kind with a 7.3L Power stroke engine and 4WD capability. Great for any job. Despite small cosmetic issues such as minor rust by the back doors and paint peeling off the hood, the engine runs smoothly and there are no engine lights. The ...
For Sale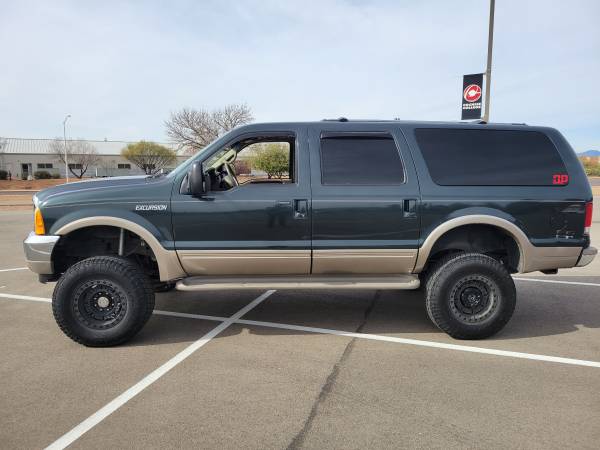 No spam, no low ball offers. Asking 17k. Reliable 7.3 Diesel 216k miles used daily. Runs great NO leaks, engine light, or blowby. 4x4, Limited, new Alpine stereo with appleAndroid carplay. Reciepts for all oil changes and services since purchased in 2017. Second owner. Nice ...
For Sale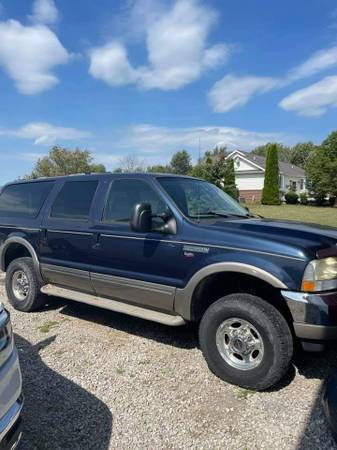 02 7.3 runs drives great, new glow plug module new water pump, newer toyo tires. could use some work nothing crazy, plenty of rust. Starts up fine in cold weather. I drive it everyday Not looking for trades5500 obo call with any questions
For Sale
7.3powerstroke. needs wiring harness and back window. New tires. turbo less than a year old
For Sale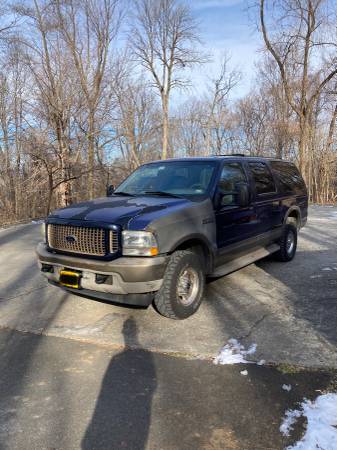 7.3L, 4WD, 44 gal., diesel, clean, runs well. Email me for more information on the car
For Sale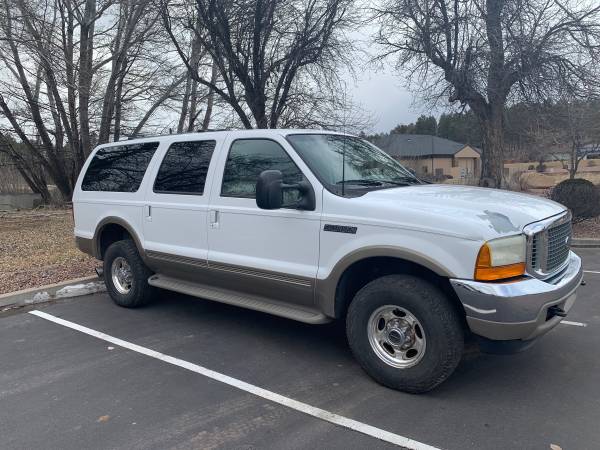 2001 4x4 Ford Limited Excursion - 7.3 powerstroke - Driven 268,624 miles -This is a great vehicle that we have had for the last 15 years. This vehicle has taken our family on many trips around the Southwest and has not had any major problems, just the typical electrical issues ...
For Sale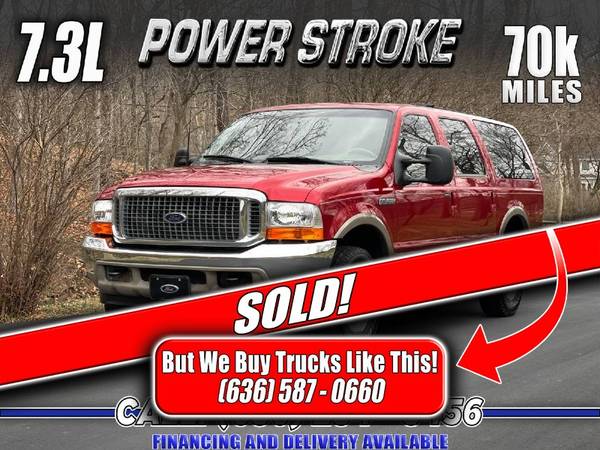 This truck has sold, but we buy trucks like this. If you know of one of these trucks for sale, we pay a finders fee. Call Anthony 636 587 - 06607.3 7.3l 6.6 6.6l 5.9 5.9 6.7 6.7l powerstroke power stroke duramax cummins diesel lly lbz dmax pstroke big block small block big block smallblock ...
For Sale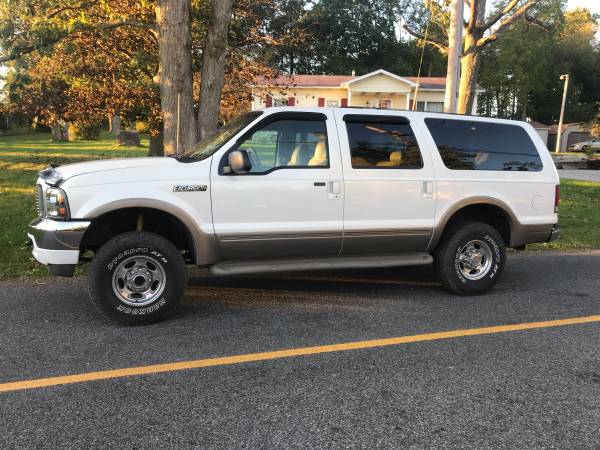 2000 Ford Excursion Limited White Pearl, Very Clean 7.3 Powerstroke Turbo diesel, Automatic, 4x4 199K. Loaded. All tan leather interior with third row seating. Seats in good condition. Rockers all original and in good condition. Has r-title. Was damaged in right rear ...
For Sale
2001 Ford Excursion 4x4 with 7.3.diesel