Nissan Supercharged Xterra for sale
For Sale
2003 nissan Xterra 3.3L V6 Supercharged 4x4 with Tow Package. 160,441 miles on engine ONLY 10,000 miles on rebuilt transmission by AAMCO. New timing belt, water pump, distributor, fuel pump, front and rear breaks. Great car but recently bought a 4runner. Asking 5,495 OBO. Read ...
For Sale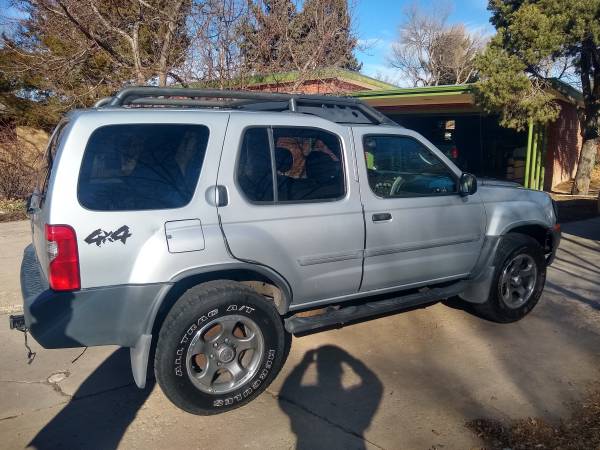 179000 miles, runs great. Cracked windshield pictured clean engine and interior, new rear brakes, has trailer hitch attachment, has spare tire. Feel free to call or text.
For Sale
Good Credit, Bad Credit or No Credit, we work hard to get you financed at a payment you can afford when the others cant or wont.Not all buyers qualify for financing Your personal financial situation may affect the vehicles for which you qualify, the interest rate and the amount of down payment ...
For Sale
2004 Nissan Xterra SE V6 Supercharged 4X4 AT

Very rare 2004 Xterra 5 brand new tires excellent running condition new stereo 5 speed 4 by 4 only 96,000 miles on it asking 4,200 best offer.
For Sale
2002 Nissan Xterra SE V6 Supercharged 4X4 4AT

Sporty 4WD SUV that is ready for the road or off road. Runs and drives great with all the sporty looks. Call 405-735-9440 or stop by and drive it home.
Nissan Supercharged Xterra
The last of the model year 2004 Xterras were manufactured in January 2005. The STILLEN supercharged VQ40 has a split personality. 00 shipping 3,236 sold nissan Xterra Frontier 3.
There are now 4 for sale listings available in Bozeman MT region. Refine your search in Bozeman MT by listings types, Such as Other, First, Engine, About, Transmission, Model, Nissan xterra, System. The average listing price for Model listings on ZeMotor $4,211. Whether you're interested in seeing Nissan supercharged xterra items for sale in almost any of your favorite areas, Supercharged, Nissan,Reviews,Vehicle. Supercharger,Xterra,Truck you'll find what you're looking for.
Near Locations
Hartford CT, Bozeman MT, Moore OK, Fort Collins CO, Wilmington NC